Envisage flush windows are designed to replicate the unique style of early glazed timber windows and are characterised by simple lines that can complement both period and contemporary properties.
Envisage flush windows maintain the authentic proportions of traditional windows and, just as they would have been made in the past, the opening lights do not protrude from the frame. The Envisage range of flush windows are designed to bring the traditional timber window appearance up to date with the demands of the modern day, including exceptional performance and increased security and insulation.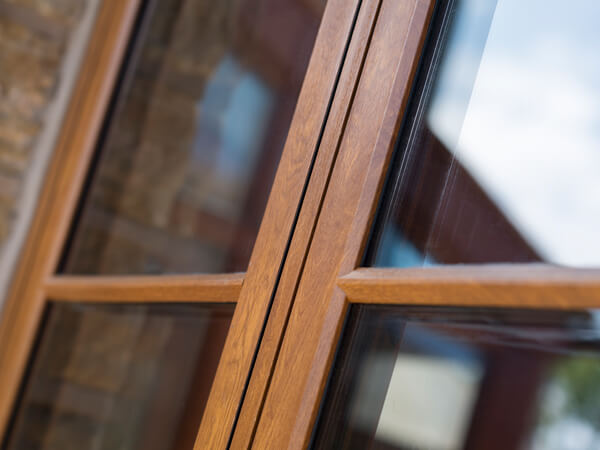 Envisage flush windows have an adaptable design that can provide any heritage, rustic, or minimalist home with the ideal finishing touch.
And don't forget about the finer details. By that we mean your choice of hardware for the design to complete its styling. You will be charmed by the many varieties of traditional and modern handles and stays that we have, each suited to all house types.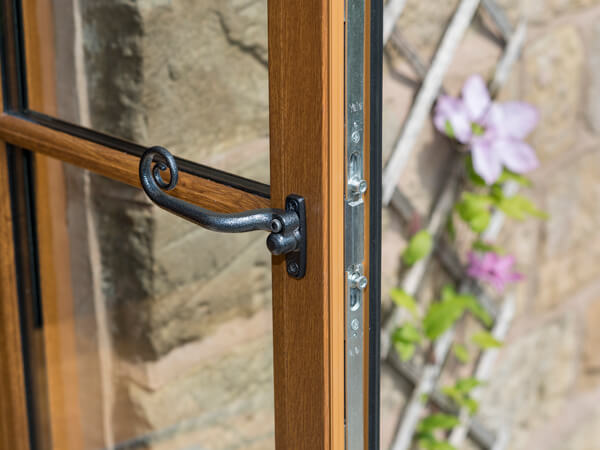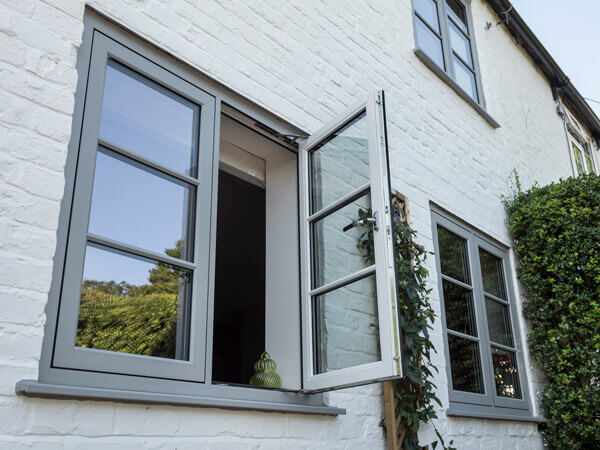 About our Envisage Flush Windows
As you would rightly expect to find in any contemporary UPVC window, the Envisage flush window provides supreme comfort and security, making it a heavyweight design.
There are many features hidden within an Envisage flush window and you can discover what they are by clicking on the hotspots opposite.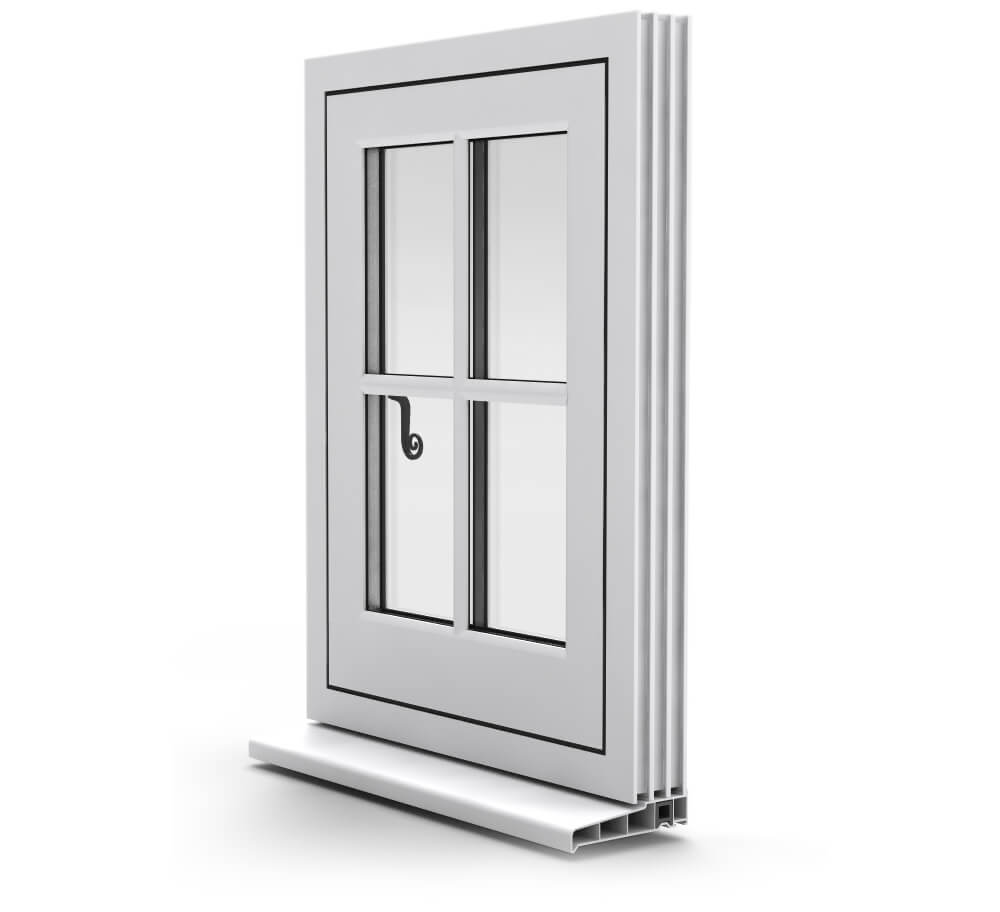 Envisage Locking
Featuring our robust shootbolt envisage locking system, you can rest assured you Envisage window will keep you home and family protected from the threat of break-ins.
Envisage Glass
Draughts and cold spots are a thing of the past. We've used smart design and high-performance next generation glass to guarantee your warmth and comfort. So, all you need to worry about is which style and colour to choose.
Envisage Frame
Appealing to the perfectionist in you, the perfectly balanced symmetrical panes make for a clean, flush and minimalist finish. Multiple astragal bars allow you to create a design that's ideally suited for traditional properties.
Envisage Hinge
Easy-clean Friction Stay Hinges with smooth operation and anti-crowbar technology to prevent would-be intruders from accessing your home.
Envisage Handles
Whether you're matching handles to a modern new-build or a traditional cottage property, you'll find the Envisage hardware range is well positioned to meet even the most unique of needs.
Drive down those high energy costs…
The technology used in the Envisage flush window will keep your rooms sufficiently warm and comfortable. There is a clever coating in the glass, designed to retain internal heat and transfer in the warmth generated by the sun.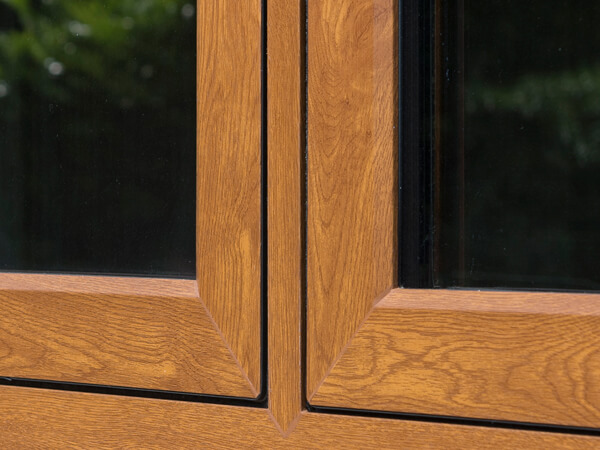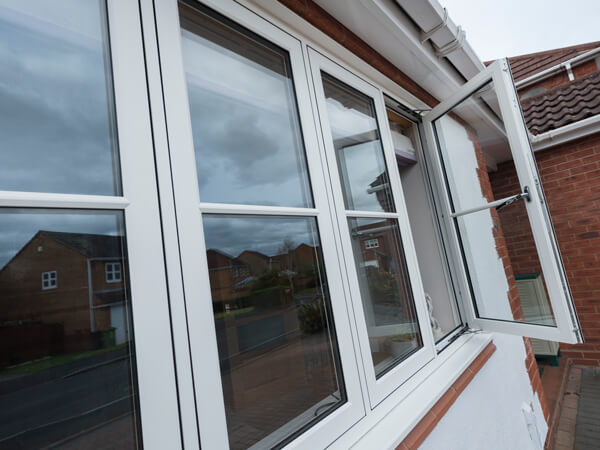 THE SMALL DETAILS MATTER
Using the term 'small details' actually does a bit of a disservice to the importance of the colour, glazing and hardware you decide to have included in your Envisage Flush Window. Assess all the options with a keen eye before making any decisions.
Colours to suit any property...
We can offer you a choice of more than enough beautiful shades, wood effects and textures to fit with any style or home. Whether you want your new windows to stand out from or blend in with your décor, we are sure to be able to help you achieve your dreams and find the perfect finishing touch for your home.
The correct glass can make your home more comfortable...
Modern technology has produced coatings for glass that are practically invisible, whilst still managing to keep your home warm and cosy. The sealed units are filled with gases and spacers to form a thermal barrier between the warmth you want to keep in your home and the cold on the outside. With the right glass, you can make your home much more comfortable. Our friendly advisors are on hand to advise you on the best glazing option for your unique requirements.
The little details make all the difference...
To offer a perfect finishing touch to your home, every component of your new windows needs to be well thought out. Functionality doesn't cut it; the windows need to be aesthetically appealing, too. Using the right hinges and handles with a window transforms it from a necessity to an attractive focal point of any property.
REQUEST YOUR FREE QUOTE
Simply fill in your details for your free, no obligation quotation, and click "Get Quote"
NEED MORE INSPIRATION? REQUEST A BROCHURE
Simply select the brochure(s) you would like to browse, fill in your details, and then click 'Download'.
Step 1 - Please select the brochure(s) you would like:
OUR FINANCE CALCULATOR
See how affordable your home improvement can be with our Finance Calculator.
Our friendly team will be pleased to help with any questions you may have.