Your route to buying the perfect window...
The words 'double glazing' and 'windows' aren't so much synonymous with each other, but are generally regarded as the same thing by homeowners such is the extent of their presence in modern-day properties.
It's the insulating cavity within the two panes of glass that's the magic ingredient in terms of the level of thermal efficiency that it provides, as well as the material utilised and its many other components. Our double glazing comes as A+ rating as standard helping to make the greatest savings on future fuel bills.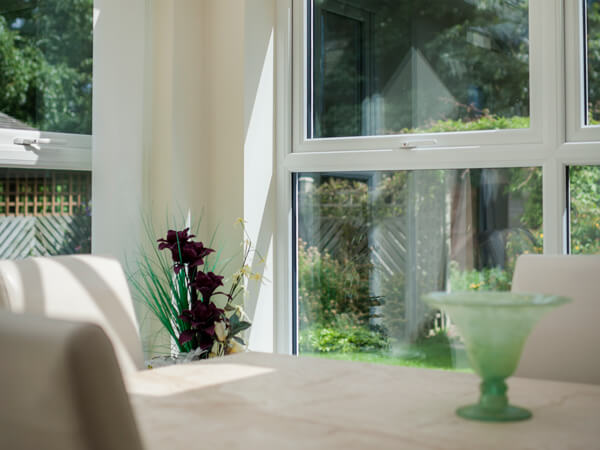 The perfect mix of style and comfort...
Our double glazed windows are A+ energy rated as standard, the highest performing energy rating on the market. The perfect balance of solar control to harness just the right amount of heat from the sun, and energy efficiency to prevent internal heat from escaping, means you can maintain a comfortable temperature in your home whatever the weather.
Our performance glazing combines a low-iron pane for a clearer view, with specialist low-E coated glass to capture warmth from natural daylight and help to reduce heat from escaping.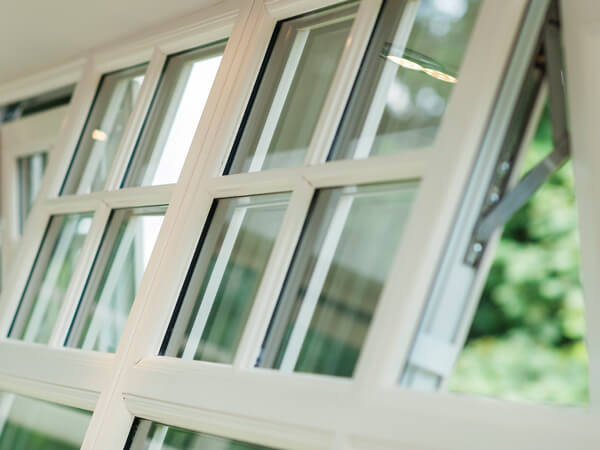 EXPLORE OUR DOUBLE GLAZING RANGE
UPVC is still the favoured material for the majority of homeowners when choosing new double glazing, whilst the powder-coated finishes applied to aluminium double glazing creates a rich and deep texture.
Add warmth, durability and security with our Casement Windows...
A practical and stylish option, the popularity of the casement window is entirely owed to its simple design and suitability to everyday living. Add in our features and you'll also have incredible thermal performance for a more comfortable home whether its super-sunny or cold outside.
With added security features, the Casement Window will provide maximum protection for your family from the threat of break-ins, and its highly engineered frames will deliver durability lasting peace of mind backed by our exceptional guarantee.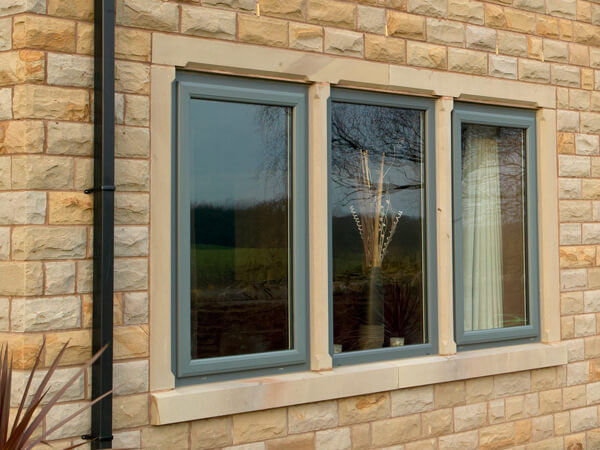 Nothing matches a tilt & turn window for versatility...
The Tilt and Turn is a fantastic choice for those looking for a wider opening, allowing more fresh air to circulate into your home. Turn the handle once to tilt the top of the window inwards, or turn further and the whole window opens inwards, allowing greater airflow, and easier cleaning and maintenance.
With multi-point locking system, A+ rated glass and secure, robust hinges, you'll be fully protected and safe in the knowledge your windows will last a lifetime.
Invite the outside into your home...
Our selection of Bay or Bow Windows are sure to be a real feature of your room – creating the illusion of space and depth by allowing more light into your home.
Whatever the angle or curve of your window, we'll match the style exactly and compliment the look with a huge range of colours and woodgrain effects. Our performance glazing and multi-chambered frames will retain internal heat and deliver the same level of comfort and security as our casement windows.
Peace of mind and optimum performance as standard.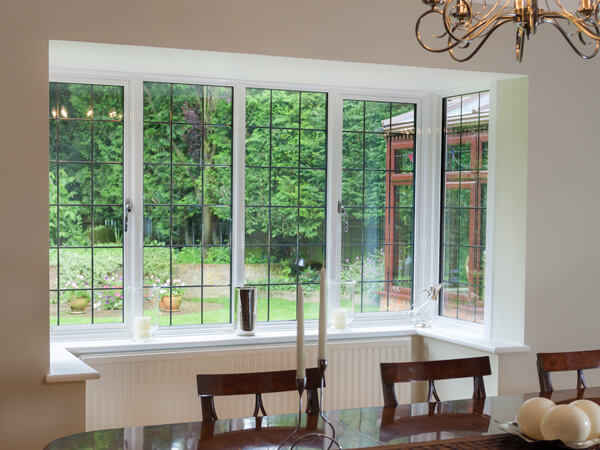 A modern take on the Georgian era...
For a more classic cottage look, adding Georgian bar detailing will achieve the charm and character you're looking for. With the Cottage Window, we can also ensure your traditional-look window performs like you'd expect from 21st century UPVC or Aluminium.
Protect your home from the elements with performance glazing and keep out unwanted intruders with the reassurance of security-added features.
Traditional-look windows that will stand the test of time.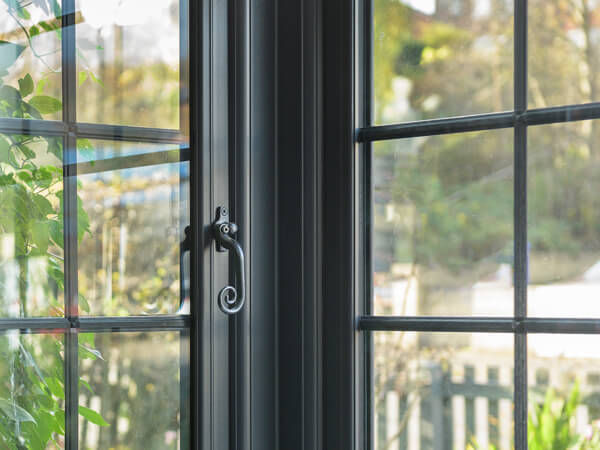 You couldn't wish for a more comprehensive selection of finishes, colours and combinations…
Whilst there's nothing wrong with traditional white, far from it, Classic UPVC can be finished in whatever colour you want. The paint application process that we undertake is sophisticated enough to produce even the most unconventional colours. There's a growing demand for newer offerings such as Grey and Irish Oak too, which have an aesthetic appeal equal to that of Whitegrain and Chartwell Green.
All our powder coated aluminium finishes are of the highest quality, and are fade resistant...
The 11-stage powder coating process that contemporary Aluminium is subject to induces strong paint adhesions and results in a true colour which is sheer quality to the look and touch. Similarly contemporary Aluminium woodgrain finishes benefit from a unique process known as sublimation which results in Walnut, Rosewood or Oak appearances which are utterly convincing and second only to real wood itself.
Harmonising style and privacy…
When it comes to replacing your windows, the glass really does matter. The glass you choose for your Extreme window can make a big difference – so make sure you give some thought to how much visibility you want to achieve. Be it ultimate privacy or a clear, uninterrupted view of the beautiful outdoors, we have the perfect glass for you. Our Clearview team will be on hand to advice you at every step.
Privacy Glazing – Some windows require an extra level of privacy. Perfect for bathrooms or windows that are overlooked, our privacy glazing options obscure the view into your home whilst allowing plenty of natural light to pass through. We can provide this option for both double and triple glazed units.
REQUEST YOUR FREE QUOTE
Simply fill in your details for your free, no obligation quotation, and click "Get Quote"
NEED MORE INSPIRATION? REQUEST A BROCHURE
Simply select the brochure(s) you would like to browse, fill in your details, and then click 'Download'.
Step 1 - Please select the brochure(s) you would like: