What's the difference between a conservatory, orangery and an extension?
We get asked this question a lot. Truth be told, the lines have become so blurred in recent times that a living space can be absolutely anything you want. Tradition tells you that a conservatory will predominantly be made up of glass – glass roof, glass walls, and provide a fabulous garden and aerial view. The introduction of the solid tiled roof has changed things somewhat and can make a conservatory far more thermally efficient, particularly when dwarf walls are also included. Several forms of solar control glazing can also be added to aid with temperature control.
Orangeries, on the other hand, normally contain brick or aluminium pillars, making them warm, secluded spaces with a luxurious feel. You can also expect an orangery to have a pelmet around the roof of the structure, which will make a big contribution to the insulating qualities of this form of extension. As for its roof, it can be a glass lantern, solid tiled roof, or a mix of the two.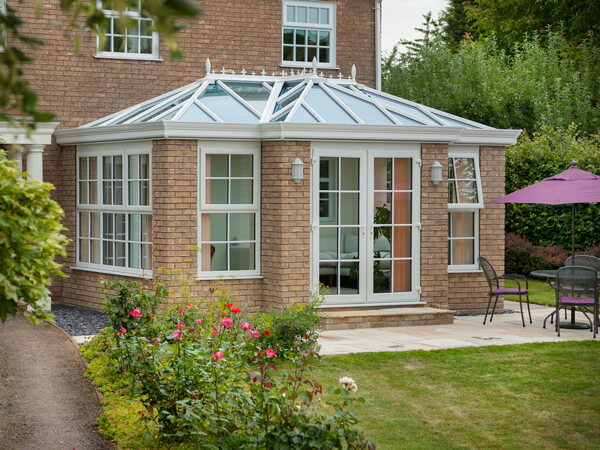 If you want something that looks like an original feature of your house, a home extension will do the trick. A typical home extension will have a considerably solid feel due to largely being built using brickwork and have a tiled roof covering of some description. It is possible though to have a hybrid roof, one that incorporates full length glass panels and/or Velux windows, which help with keeping a space well lit and ventilated. If you want an extension with guaranteed comfort all-year round, it's an option that won't let you down.
At the end of the day though, does labelling really matter? Talk to a member of our team for expert advice and guidance.
I can't decide between a tiled roof and a glass roof. Which should I go for?
It all depends on a series of factors, such as how you want to use the space, which direction it will face and how much money you can spend. If you're keen to have lots of natural light in the space and a great garden view, we're happy to report that solar control glazing is very advanced nowadays and will keep your extension well insulated.
For an extension you can use year-round, a solid tiled roof ought to come into the reckoning, which you can have full length glass panels and Velux windows inserted into. This will give you a hybrid of a solid and glass roof and their combined benefits.
A Clearview advisor can sit down with you and discuss the different roofing systems that we have within our range.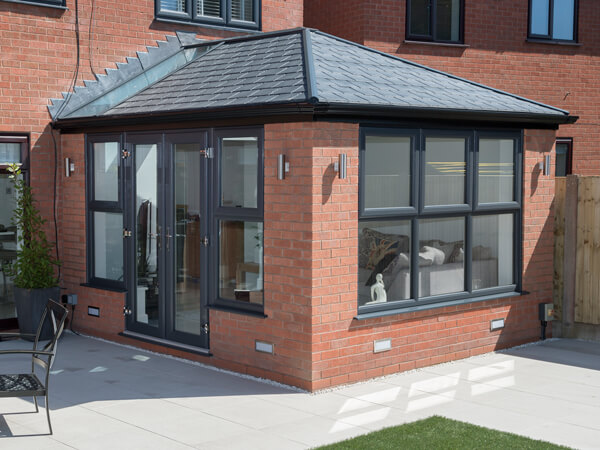 MORE COMMON QUESTIONS
Don't hesitate to speak to one of our advisors if you have any questions. You may well find the answer you're looking for below, amongst our common questions.
Will I experience any thermal-related issues?
You will be pleased to know that you won't as every living space we design is done so with the purpose of providing our customers with year-round extensions. Unlike the old conservatories with polycarbonate roofs that would become unbearably hot in summer, our extensions promise comfortable indoor surroundings throughout the seasons. To be further assured of this, include a tiled roof in the design.
Do you manufacture your roofs?
We do, and very proudly so. Clearview is a member of the Conservatory Outlet Network, and our sister company, Conservatory Outlet, is one of the country's leading roof manufacturers. The roofs are manufactured in a state-of-the-art facility in Wakefield.
The biggest advantage of us having such a tight relationship with our manufacturer is that it enables us to closely monitor our supply chain. This way we can check that our roofing products consistently meet our high standards.
Can I choose different roof tiles to match my home?
Without question, you can! Clearview has a superb selection of shingle and slate roof tile options. If you want your roof tiles to match your house tiles, we can easily get that sorted. A series of flat roof membranes are also available. Have a discussion with an advisor for further information.
I want to know more about energy rated windows. What does 'A' rated windows mean?
If you want the most energy efficient replacement windows available in the UK, 'A' rated windows rank highest in this regard. All replacement windows carry an energy efficiency label so that you can identify the standard of insulation they provide and discover if they comply with Building Regulations.
Window Energy Ratings go from A-E, with an 'A' rated window being the best for thermal efficiency and an 'E' rated window being the poorest. Please, look out for these energy ratings when buying any new windows so that you know exactly what you are getting for your money.
What is solar control glazing?
Although you can't see it, there is a clever coating on the glass of solar control glazing, there to prevent too much heat coming into a space and too much heat escaping from it. The glazing can be tinted in different ways depending on the level of light transmission and heat retention you command. An advisor can give you more in-depth background into solar control glazing.
Is it possible to match to my existing bricks?
The Clearview team will make a concerted effort to find the closest brick match to your house as they can find, prior to any work starting. You will be informed of possible weathering and manufacturing differences between new and existing bricks. We can tint the brickwork to make it match if we have difficult locating a perfect match, but this will come at an additional charge.
Will I need to obtain Building Regulations Approval?
Extending a property does normally require Building Regulations Approval. However, there are certain classes of extension that don't need it. To clarify matters, one of our surveyors will pay your home a visit and go through the relevant obligations to ensure that you don't break any rules. If it transpires that Building Regulations Approval is required, we can help you get it organised via your local authority.
Do I need planning permission?
When your extension falls under Permitted Development Rights, you do not have to apply for planning permission, so long as these conditions are satisfied:
The ground area covered by the extension and any other buildings within the boundary of the property, excluding the original house, is not more than half the total area of the property.
Any part of the extension is not higher than the highest part of the roof of the existing house.
The eaves of the extension are not higher than the eaves of the existing house.
Any part of the extension does not extend beyond any wall facing a road if it forms the principal or side elevation of the original house.
The eaves are no more than 3 metres in height if any part of the extension is within 2 metres of the property boundary.
The materials used in exterior work, except in the case of a conservatory, are of similar appearance to the existing house.
An upper floor window on a side elevation within 15 metres of a boundary with another house is obscure glazed; and is non – opening unless the parts which can be opened are more than 1.7 metres above the floor of the room in which the window is installed.
A side extension does not exceed 4 metres in height or be wider than half the width of the original house.
In a single storey extension

the extension does not extend beyond the rear wall of the original house by more than 4 metres for a detached house or 3 metres for any other type of house;
the height of the extension does not exceed 4 metres;
no part of the extension is within 3.5 metres of any property boundary with a road opposite the rear wall of the house.

In an extension with more than one storey

the extension does not extend beyond the rear wall of the original house by more than 3 metres;
no part of the extension is within 7 metres of the property boundary opposite the rear wall of the house;
the roof pitch of the enlargement is as far as practicable the same as that of the original house.

If you live in a house within a conservation area, World Heritage Site, area of outstanding natural beauty or National Park-

no part of the exterior of the house is clad with stone, artificial stone, pebbledash, render, timber, plastic or tiles;
the extension is not more than 1 storey or 4 metres in height;
no part of the extension extends beyond a principal or side elevation of the original house
How long will it take you to install my living space?
It's difficult to give you an exact timescale until we know how complex the project is and whether a planning application will need to be put together and submitted first. More details about this subject can be found in our 'What happens next' guide. Just ask an advisor for a copy of it.
What is a test dig?
We carry out a test dig to check that the ground conditions are suitable enough for a traditional concrete base and foundation. If we believe the ground to be unsuitable, we will suggest an alternative foundation proposal such as a specialist pile foundation or concrete raft.
What is the purpose of a cavity tray?
A cavity tray is a series of high-level damp-proof courses that bridge a wall cavity to direct moisture to the external face of a wall where the extension roof joins the house wall. It's main role is to stop any moisture that penetrates an outer wall from then becoming visible inside an extension.
Do you offer finance to help me pay for for my new living space?
Yes. To make life easy for you, Clearview can arrange a variety of affordable and convenient easy payment finance options (subject to application & status). Applying for finance is simple and we promise you a quick decision. Everything can be sorted out with you in the comfort of your home or at your local Clearview Showroom, so you can enjoy whatever you've set your heart on right away.
What do we need to do when our finance is approved?
If you're arranging your own finance, you'll need to call us as soon as you get the go ahead. If you're taking up one of our offers, the company will tell us both directly, so there's no need to call as we will get in touch with you.
What happens if finance is refused?
Finance companies can turn down people for lots of reasons, for example if you've moved several times over the past few years. In these circumstances, we always do our best to help and sometimes it's worth trying another provider, especially if they know you.
I've applied for finance with Clearview. How long will approval take?
Sometimes our finance company will say 'yes' almost immediately and on other occasions it may take them a few days. This short delay can be for any number of reasons and you should not be unduly concerned.
OUR FINANCE CALCULATOR
See how affordable your home improvement can be with our Finance Calculator.
NEED MORE ANSWERS?
Simply fill in your details below and one of our customer advisors will get in touch to answer any of your questions.
Our friendly team will be pleased to help with any questions you may have.