The expectant parents have lived in their home in Lathom, West Lancashire, for the last three years with their spaniel, Charlie. With a new baby on the way, they wanted more living space that could be used as a place for the baby to play.
After experiencing both Daniel's parents' and sister's orangery, and having spent many hours socialising inside, they knew the many benefits of owning a custom-made orangery. So much so that the couple had always wanted their own glass roof orangery. Once they found out that a baby was on the way, it made sense to extend as soon as possible.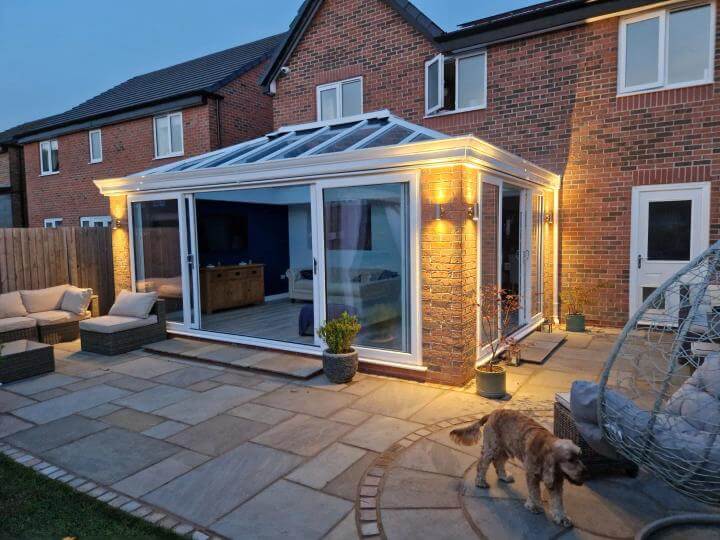 They appointed Clearview based on recommendations, and after speaking with our consultants in depth, they soon felt confident that we were the company to bring their vision to life. Daniel was especially impressed with the many styles and options we had available to them.
An open and airy space was important to the Lancashire homeowners, in addition to easy access to the outdoors, so we incorporated a thermally efficient glass roof and sliding patio doors to maximise natural light.
Fortunately, the installation was quick and efficient, with the glass roof and windows going in after just two days. Daniel commented on how the installers took care to prevent any damage, as well as keeping their workspace and the front of the property extremely tidy. This was perfect for soon-to-be parents with a million and one things on their minds!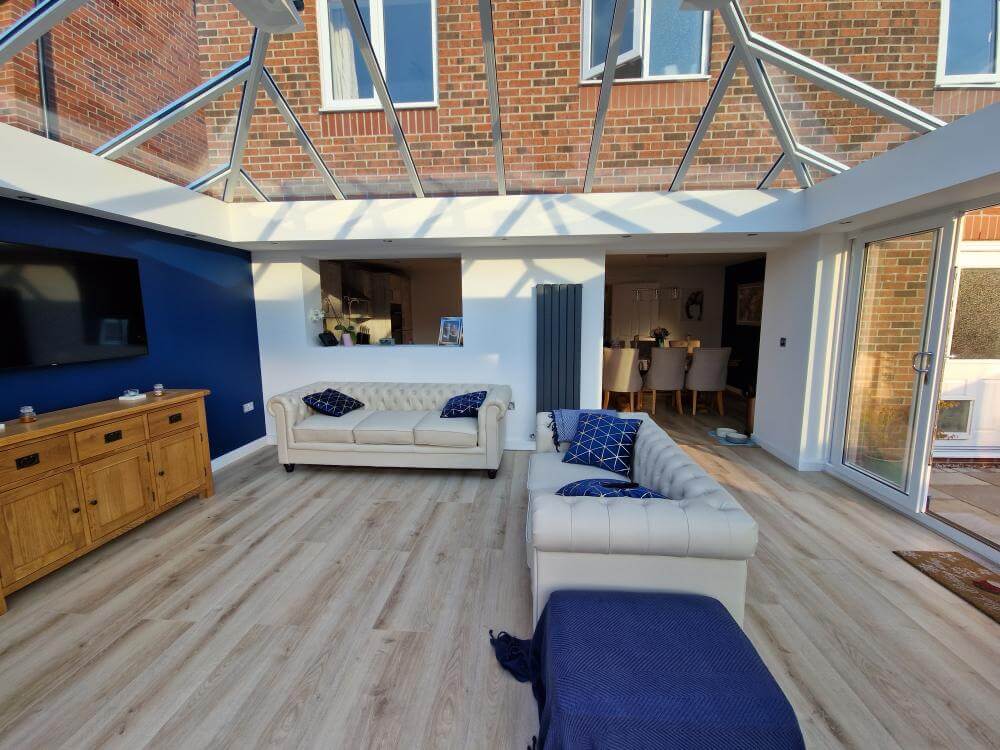 Daniel has even shared a few snaps on his social media account, proudly detailing the project and finished look. After reaching out after the project was finalised, he told us how the orangery has transformed their home 100 fold and they now use the space more than other rooms in the house! The high proportion of glazing and double patio doors have brought so much light and fresh air into their home.
We wish Daniel and his wife the best of luck with this new exciting chapter in their lives. We are sure the family will get many years of enjoyment out of their brand-new Clearview orangery!
"We couldn't be happier with our new extension. We debated it for a long time but we're so glad we went ahead with it. It's a focal point of the house and with some equally impressive landscaping it feels bedded in. Time to enjoy it before the baby arrives!"
REQUEST YOUR FREE QUOTE
Simply fill in your details for your free, no obligation quotation, and click "Get Quote"
NEED MORE INSPIRATION? REQUEST A BROCHURE
Simply select the brochure(s) you would like to browse, fill in your details, and then click 'Download'.
Step 1 - Please select the brochure(s) you would like:
INSPIRED? GET A FREE QUOTE TODAY!
Simply fill in your details for your free, no obligation quotation, and click "Get Quote"
Our friendly team will be pleased to help with any questions you may have.