The Bleakman Family's
Orangeries with Roof Lanterns and Eclipse Patio Doors
A delightful modern space that's revitalised a 1950s home.
The Bleakmans purchased a 1950s property that despite its grand appearance, need modernisation. The building retained many of its original features and had not undergone any kind of renovation for decades.
As a result, a home with plenty of character and potential was tired, old-fashioned and outdated.
To make matters worse, the house's existing windows were proving to be better equipped at letting heat out than keeping the property warm!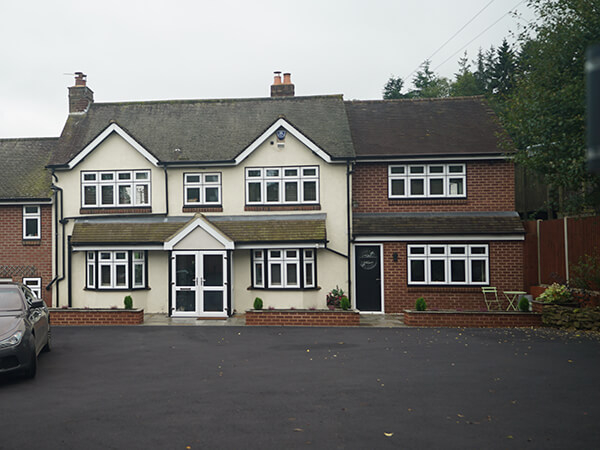 The Bleakmans wanted to modernise the property and make it a true family home.
The family approached us for help. We discussed in detail their ideas and aims for the property. They wanted a new space that would link different areas of the house and become a natural meeting place for all the family.
With this information, we designed and built two beautiful orangeries that would combine to create an easily-accessible and multi-purpose space for everyone to enjoy.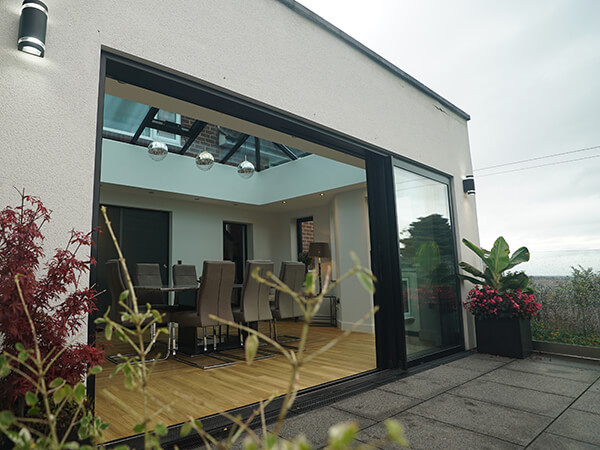 Both spaces feature a lantern roof, fitted with thermally efficient and tinted glazing. This would ensure that both orangeries would be bright and filled with natural light whilst maintaining a comfortable temperature throughout the year.
We also installed two separate sets of matt black Eclipse aluminium patio doors, providing seamless access to the patio and the sloping landscaped garden.
The double orangeries successfully joined various parts of the property, including the kitchen, living room, hallway, and the outdoors. This brought the whole family and house together, just as the Bleakmans envisioned.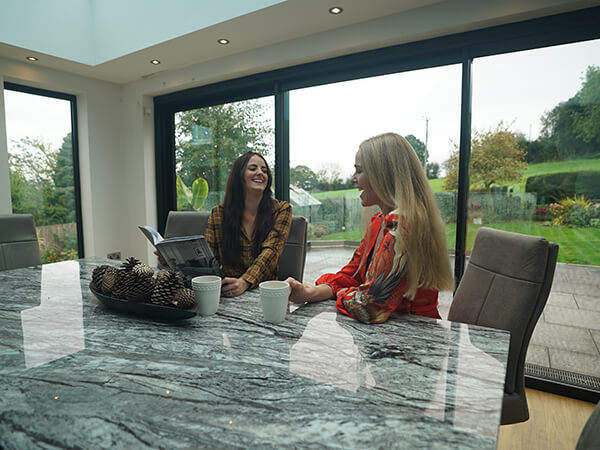 As part of the renovations, we also installed new windows at the front of the house. These visually striking Extreme UPVC casement windows combine black frames with white casements.
This gave the Bleakmans the 1950s look they wanted – but with technology, performance and security from the 2020s!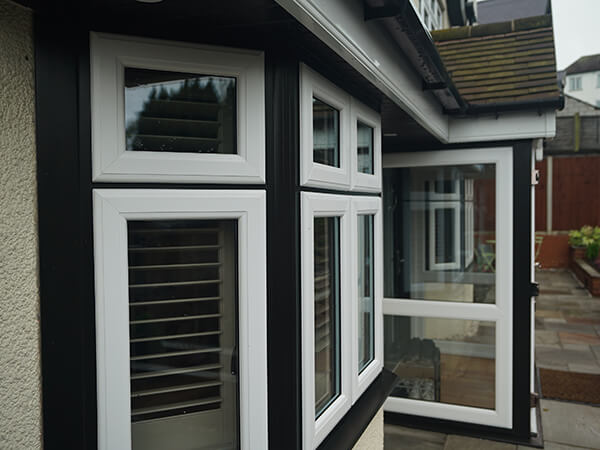 Now when I come home, it's so uplifting. I walk in and the house opens up into this gorgeous new living space. It's fantastic, I couldn't be happier.
As you can no doubt see, this stunning double orangery has proved to be a wise investment for the Bleakmans. It has transformed their newly purchased property into a bustling, modern and much-loved home.
View More Case Studies
INSPIRED? GET A FREE QUOTE TODAY!
Simply fill in your details for your free, no obligation quotation, and click "Get Quote"
Our friendly team will be pleased to help with any questions you may have.